YB Series Three-Phase Asynchronous Motor
View The Model by Dragging Mouse
Overview
The YB series High Voltage Three-phase Asynchronous Motor (frame No. 355-630) is designed and manufactured with our long time experience in manufacturing high voltage explosion-proof motor and design, manufacture, test technic of high-voltage and high-efficiency motor imported from German. By using new technic, new material with advanced engineering, our products featuring reliable operating in compact structure with less vibration and less noise, better outdoor applicability, less weight, which meet the national level 3 energy standard and can be applied in the level 1 and level 2 danger zones that contain explosive gas.

In motor driving technique, we insist on high efficiency, energy saving, environment friendly, better compact structure, more power, higher efficiency and more reliable as our developing goal.

This series motors' power grade and mounting dimension meets standards of China, IEC and German standards, which could be used as the auxiliary motor for export equipment and replacement for import motor respectively.
Type introduction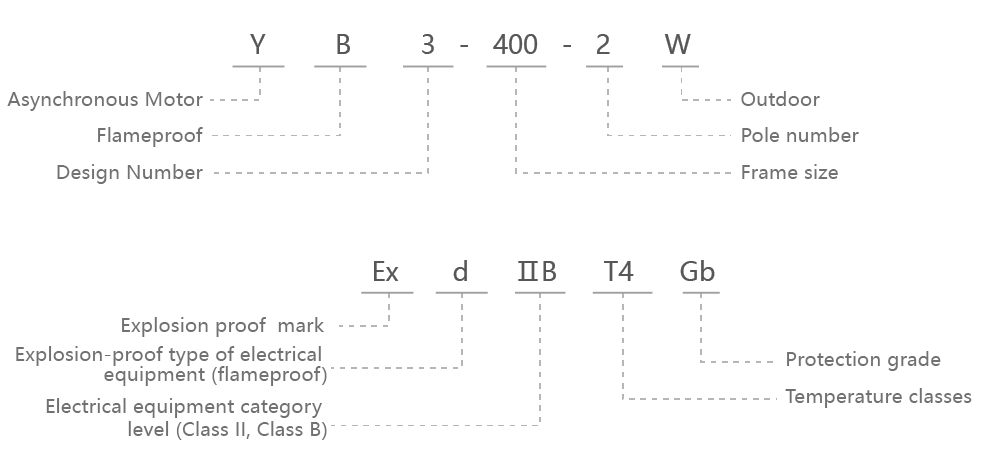 | | |
| --- | --- |
| W-Outdoor light corrosion resistant type | WF1-Outdoor medium corrosion resistant type |
| WF2-Outdoor heavy corrosion resistant type | F-Indoor corrosion resistant type |
| F1-Indoor medium corrosion resistant type | F2-Indoor heavy corrosion resistant type |
| TH-Humid tropics indoor type | THW-Humid tropics outdoor type |
| TA-Dry tropics indoor type | TAW-Dry tropics outdoor type |
| | |
| --- | --- |
| | |
| Electromagnetic diagram by using field-circuit coupling | Shafting analysis |
| | |
| --- | --- |
| | |
| YB2 motor frame | YB2 motor frame ANSYS on cast-iron frame cooling-fin temperature calculation application analysis. |